Our Product Pick
Star Micronics America (Somerset, NJ) has unboxed the latest model in its thermal mC-Print Series: the 3" mCP30. It carries connectivity options--including USB, LAN, and CloudPRNT/WebPRNT--without more advanced features such as peripheral device hub, USB-A/Lightning, and Bluetooth (found in Star's Models mCP31L and mCP31LB). In cube-shaped dimensions of 5.2 in. (W) x 5.5 in. (D) x 4.9 in. (H), with front loading and front exiting, the mCP30 has print speed of 10 in./250 mm per second at 203 dpi. "When designing the mCP30, we leveraged feedback from our end-user customers and ISVs to create an affordable printer," Jon Levin, Product Integration Manager at Star Micronics America, told RRN. "A good option for users of legacy Windows POS to modernize their hardware look, as well as users of tablet POS." (A 2" mCP20 was offered previously.)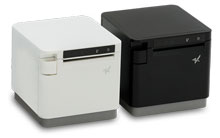 Star's mCP30 Receipt Printer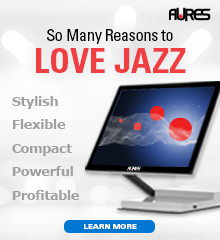 COMPANY BUSINESS
Posiflex Atop IoT
A forward-looking partnership for Posiflex (Hayward, CA), in the form of Banyan Hills Technologies (Duluth, GA), specialist in the Internet of Things (IoT). With this new capacity, VARs, ISVs, and Distributors of Posiflex may offer remote-monitoring of its terminals, kiosks, and embedded PC's via "Canopy, Empowered by Posiflex." It comes via private cloud, Amazon Web Services, or Microsoft Azure. Also, the dedicated Canopy Partner Portal has been opened by Posiflex.
"With Canopy, clients of Posiflex will be able to truly leverage the data from all of their connected devices to drive changes in day-to-day operations," emphasized Steve Latham, CEO and Founder of Banyan Hills. "IoT campaigns can be created to automatically trigger many time-saving tasks [such as] pre-emptive maintenance." (At its Global Conference at corporate headquarters in New Taipei City in Taiwan in June, Posiflex Group first announced its relationship with Banyan Hills. It now comes to the channel in North America.)
"Customers deserve control over their technology assets. If they don't know the health of their technology and devices, are they really in control of their business?" postulated Doyle Ledford, VP of Sales and Marketing for Posiflex, adding "Posiflex is excited to offer this value-added service to our customers with Canopy. Its feature-rich platform expands the capability of Posiflex's devices to new levels, enhancing our customers' existing and future deployment of products by Posiflex."

A Partnership With Banyon Hills Technologies Provides Remote Monitoring of Terminals, Kiosks, and PC's
EP Sets the Table
Electronic Payments (Calverton, NY) has added EMV processing with traditional tipping and pay-at-the-table integration for its Exatouch Point of Sale, as well as Oracle Hospitality and other popular POS, as the most recent enhancements for its TableTurn. A bundle of hardware and payment software, employing wireless, TableTurn, as its name describes, eliminates the need for servers walking to the POS station to enter orders, add menu items to existing orders, and close checks. With support for MSR, EMV, and NFC, it increases table turns, improves service, and enhances security, according to Electronic Payments.
An innovative digital billfold empowers customers to pay at the table when it is convenient for them, rather than waiting for their server. Once the check is settled, diners may have electronic receipts sent via e-mail and text or choose to print paper receipts at the table using the built-in printer. Guests also have the ability to leave service ratings on each check, providing direct feedback to restaurant management. At the end of the shift, TableTurn enables accurate server reconciliation.
"We developed TableTurn with the restaurateur in mind. It's focused on enhancing customer experience, increasing operational efficiency, and streamlining payments to name just a few key benefits," reported Michael Nardy, CEO of Electronic Payments. "And, because TableTurn offers affordable payment processing and other features exclusive to Electronic Payments, restaurants of every size can take advantage of it to maximize profits and expand their businesses."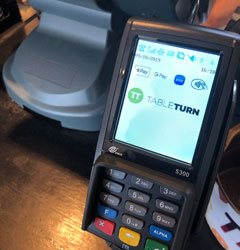 Greater Functionality for TableTurn by Electronic Payments
Worth Your While - 2020
NRF 2020 Vision
National Retail Federation
January 12-14
New York, NY
Inspire
Retail Solutions Providers Association (RSPA)
January 26-29
Nassau, Bahamas
NGA Show
National Grocers Association
February 23-26
San Diego, CA
Modex
Material Handling Industry (MHI)
March 9-12, 2020
Atlanta, GA
Shoptalk
Shoptalk Commerce, LLC
March 22-25
Las Vegas, NV
Transact
Electronic Transactions Association (ETA)
April 28-30
Las Vegas, NV
NRA Show
National Restaurant Association
May 16-19
Chicago, IL
RetailNOW
Retail Solutions Providers
Association (RSPA)
August 2-5
Las Vegas, NV
NACS
National Association
of Convenience Stores
October 11-14
Las Vegas, NV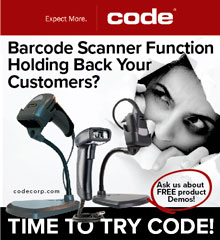 ALL IN THE FAMILY
Toshiba: Talking About 9th Generation
Toshiba Global Commerce Solutions (Research Triangle Park, NC) has enhanced its flagship TCx 300 and TCx 700 POS Workstations. Utilizing processors in the 9th Generation Intel Core S Series, TCx 300 and TCx 700 will now deliver higher performance, scalability, and security, according to Toshiba GCS. An upgrade adds to the embedded 8th Generation Intel Core S Series for the TCx 300 and TCx 700 POS.
Introduced earlier this year, Intel's 9th Generation has been built with the refreshed version of its "Coffee Lake" architecture. It boosts performance for Celeron, Core i3, Core i5, and Core i7 (e.g., 4.6 GHz), with 4-GB/8-GB RAM and 128-GB/256-GB SSD. As O/S, the TCx 300 and TCx 700 support TCx Sky, Windows 10 IoT Enterprise, and Linux.
"Retailers require solutions to simplify complex workloads for market pricing, inventory control, customer service, and loyalty programs while elevating shopper engagement and optimizing sales opportunities," summarized Joe Jensen, Intel IoT Group VP and GM for Retail, Banking, Hospitality, and Education. "With the 9th Generation Intel Core processor, Toshiba's TCx 300 and TCx 700 POS deliver an enriched shopping experience with real-time insight into customer demand to personalize the shopping journey with world-class analytics." Toshiba GCS debuted its TCx 300 and TCx 700 (follow-up to IBM's SurePOS) in 2015. A channel-friendly TCx 800 followed in February 2018.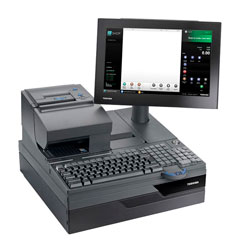 Toshiba Adds Intel 9th Generation Intel Core S Series to the TCx 300 and TCx 700 (Shown Here)

Elo Dots Its "I"
Elo (Milpitas, CA) has rolled out is new, enhanced touchscreen I-Series 2.0 for Windows. Available with either 15" or 22" projected-capacitive displays, the I-Series 2.0 for Windows offers 8th Generation Intel processors (Celeron, Core i3, and Core i5), 4-GB/8-GB RAM, 128-GB/256-GB SSD, and Intel vPro. It supports Windows 10 IoT or Windows 10 Professional. As alternative O/S, it has been pre-tested with Linux, Ubuntu, and Red Hat.
As another benefit, the new I-Series 2.0 for Windows has Elo Edge Connect ports on all four sides (4 x Micro USB 2.0), supporting as many as four peripherals simultaneously (e.g., barcode scanner, fingerprint reader, printer, payment device). As wireless communications, it furnishes Bluetooth 5/BLE and 802.11 Wi-Fi. A variety of mounting options, in portrait or landscape configuration, and for wall, floor, or tabletop, are offered by accessories from Elo.
"Our I-Series products are used by millions of customers every day for in-store, point-of-sale, and self-service applications, as well as industrial and healthcare environments," noted Craig Witsoe, CEO of Elo. "With faster performance and the added Edge Connect ports on all four sides, the new I-Series remains one of the key products within our unified architecture." A recent flurry of new participants have joined Elo's ISV Alliance: Active8 (entertainment, Lewisville, TX), Aldelo (hospitality, Pleasanton, CA), Cashier Live (pharmacy, Chicago, IL), Debmedia (customer relationship management, San Jose, CA), and XPR POS by Titbit (self-service, Ridgefield Park, NJ).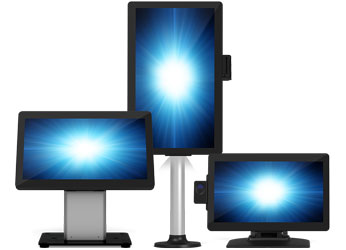 Elo's New I-Series 2.0 for Windows

Join the Party at No Charge


Do you need to reach the POS & Auto ID resellers who really drive business? With the most targeted editorial environment, and on the most cost-effective basis?
E-mail Michael Kachmar for advertising information,
or call 973-270-3284
Did you miss one of our issues and suddenly realize your competitors know more than you do?
Hurry ! Use the links below to catch up :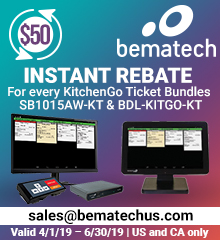 A Message From the Editor
As we enjoy another year, our mission stays constant: to fill the need for timely, focused, non-biased news in the channel for POS & Auto ID. If anything, that need grows more pressing in the face of changes in technology, go-to-market strategies, and business models. We look forward to continuing that mission and welcome your suggestions and thoughts on improvements. Thanks!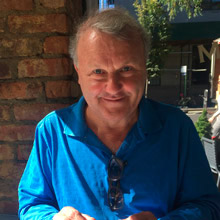 Michael Kachmar, Editor
ALLIANCES
A Noble Calling for Epson
A kit for in-venue mobile food and drink ordering has been assembled by Noble (Boston, MA) and Epson America (Long Beach, CA). An omnichannel solution, Noble's platform allows patrons to order their refreshments from their smartphone, pay and tip via credit card, and choose their desired pick-up or delivery location. It addresses environments such as stadiums, arenas, bowling alleys, and casinos.
As partner to the ISV, Epson provides its 3" TM-m30 cube-shaped thermal receipt printers and 3" T20II mPOS-friendly thermal receipt printers. Situated at the concession stand, bar, or kitchen, in conjunction with iPads, they print order information for fulfillment. "Epson's printers are easy to integrate with our clients' existing POS systems, and they already know and trust the Epson brand, which gives us great advantage," relayed Matt Draper, COO at Noble.
"In the competitive world of entertainment, venue vendors need to provide exceptional customer experiences," indicated Tom Kettell, Director, Commercial Channel - North America, at Epson America. "Noble delivers on that with its smart, safe, and efficient digital ordering and marketing platform. Together, we can scale as needed and offer the best possible solutions so patrons can make the most of their time and focus on enjoying their experience."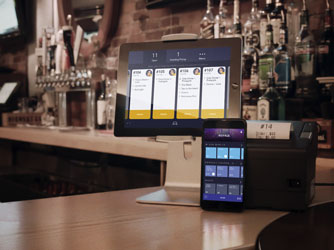 A Mobile Food and Drink Ordering Solution From Noble and Epson America
[Editor's Note: At press time, Epson America released its new 3" TM-T200III receipt printer for the SMB. See next edition of RRN for details.]

PioneerRx Prescribes Equinox
A leading ISV in pharmacy, PioneerRx (Shreveport, LA), has endorsed the Luxe 8500i payment terminal by Equinox Payments (Phoenix, AZ). As features, Luxe 8500i has horizontal layout, 5" full-color touchscreen, top-mounted card readers (MSR, EMV, and NFC), and durable, high-gloss construction. "This integration effort clearly demonstrates how the design elements of the Luxe 8500i elevate the customer experience while its robust security technology extends peace of mind to independent pharmacists," declared Rob Hayhow, VP of Equinox.
"I am very satisfied with the new Luxe 8500i," remarked Raaed Hasan, Pharmacist-in-Charge at Highland Clinic Pharmacy (also in Shreveport, LA). "It's sleek, stylish, and convenient. Customers love its bright colors and the way it's angled toward them, allowing for a smooth transaction process." In his comments, PioneerRx's Senior Software Developer Chris Benard cited "a common programming interface [for Equinox], in which the pad itself is a web browser" and the simplicity of Linux O/S.
Also, Equinox has received approval for its Luxe 8500i and Luxe 6200m payment terminals and its remote key injection (RKI) solution from the PCI Security Standards Council (PCI SSC). These hardware terminals are certified as part of the multi-layered First Data TransArmor P2PE Solution - 3DES from First Data, now Fiserv. "This achievement allows us to provide merchants and our partners with a solution that includes PCI PTS 5.x certified devices and delivers operational efficiencies that significantly save time, money, and labor," enthused Hayhow.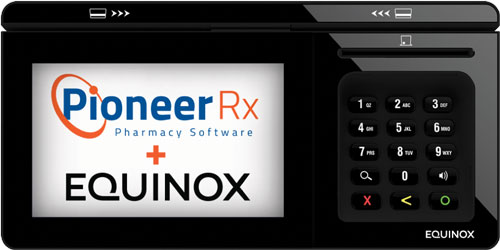 A Payment Solution for Pharmacies

A Sack of Cash for CitiXsys
A sizeable investment of $60 million by Goldman Sachs in ISV CitiXsys (New York, NY). With its flagship platform, named iVend, CitiXsys addresses omnichannel operations/POS for retail and hospitality. "[Its] innovation adds value for retailers around the world with its best-in-class solution," manifested Terence Doherty, Managing Director at Goldman Sachs Merchant Banking Division. At CitiXsys, Paula Da Silva serves as EVP of Global Partnerships and Alliances and William "Tripp" Wallace serves as Channel Sales Manager for North America.
"CitiXsys readily enables businesses to meet shopper expectations on the front-end, while providing users on the back-end with the streamlined processes and access to data that drives business growth," stressed Kamal Karmakar, CEO of CitiXsys."The next milestone for us is to offer complete infrastructure and application management to all retailers worldwide, so they can join the next phase of digital transformation in retail. I am delighted to work with Goldman Sachs MBD in this next chapter of growth and expansion of the business, including as we look for complementary strategic acquisition targets."
In October 2019, CitiXsys unveiled its new iVend Retail 6.6. It furnishes out-of-the-box connectors to enterprise resource planning (ERP) such as Sage X3, Sage 300 Cloud, Microsoft Dynamics 365 Business Central, SAP Business One, S/4 Hanna, ECC 6.0. and IS-Retail. In the case of e-commerce, it integrates with Magento Commerce (Campbell, CA). In the physical, it also supports self-checkout kiosks by NCR (Duluth, GA).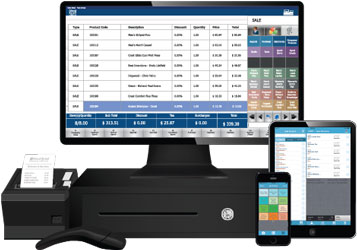 Investment in CitiXsys, and its iVend POS, by Goldman Sachs Merchant Banking Division
Code Corner
SalesVu (Austin, TX) has released its self-order kiosk app for hospitality, called OrderUp. Utilizing iPad, OrderUp integrates with Square POS as well as SalesVu's POS. It allows customers to navigate through an interactive, picture-oriented menu, according to SalesVu, and pay via their credit cards. As benefits, it features "easy, on-the-fly" menu customization, cross-selling and upselling capabilities, and training and 24/7 support from SalesVu. A free 15-day trial of OrderUp has been extended by SalesVu, to be followed by fee of $15 per month per terminal. In addition, remote device management per the cloud may be provided for $150 per month per location by SalesVu. "Restaurants using the OrderUp self-ordering solution are already seeing an average of 30% boost in sales compared to non-kiosk orders," related SalesVu, "due to the fact that customers have more time to browse through all the possible ingredient add-ons and substitution options, as well as the suggested sides, appetizers, and drink pairings."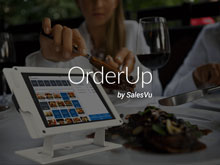 OrderUp Kiosk App by SalesVu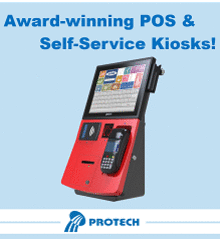 ENVIRONMENTS/PLATFORMS
Serving Up SOOP
An interesting start-up called "SOOP" (New City, NY) has launched its text-based mobile ordering and payment solution for restaurants. Offered to the channel, it seeks to eliminate the upfront technology costs and high transaction fees associated with online ordering apps such as Grubhub, DoorDash, and Uber Eats. With SOOP, customers place their order from their personal device using text or conversation, which SOOP then sends to the restaurant, and confirms with details and charges. It completes the process by charging the transaction to the customer's credit card and issuing payment to the restaurant.
"Young people are the biggest takeout consumers and they demand the speed and convenience of texting. Restaurants have to adapt to them--that's why text-based ordering is the future for restaurants," suggested Richard Rotbard, CEO of SOOP. "The SOOP business model makes text-based ordering a profit center for both resellers and their customers." Readers may remember Rotbard as the former President of POS ISV pcAmerica (now part of Heartland Payment Systems). Also at SOOP, Scott Saltiel serves as CRO and Nish Kamboj serves as CTO.
A monthly fee of $99--along with "minimal processing fee similar to credit card transaction"--gets charged to participating restaurants. (Also, the tablet or PC can be purchased directly from SOOP.) Upon each restaurant sign-up, SOOP will automatically issue a reseller bonus of $297 (i.e., the first three months of SOOP service). In addition, resellers will receive a monthly residual of 10% of the monthly fee and a percentage of each restaurant's transaction fees and hardware sales.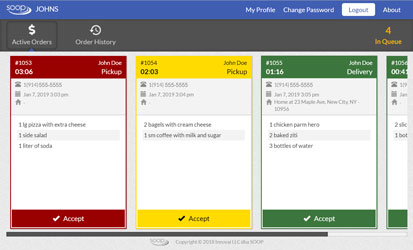 SOOP's Text-Based Mobile Ordering Platform
Smiling With SnapPay
A play in facial recognition payment technology has reached our shores. It comes by way of SnapPay (Mississauga, ON, Canada), an affiliate of mobile payment provider Alipay (Shanghai, China). Established in 2017, SnapPay allows merchants to accept payments via Alipay and WeChatPay. It addresses the large numbers of Chinese tourists in Canada (about 737,000 in 2018) and the U.S. (about 2,040,000 in 2018).
With technology from SnapPay, consumers may pay digitally in Chinese currency, while merchants get paid in Canadian or U.S. currency. At the level of payment processing, as one would expect, it integrates seamlessly with major providers of POS. With the new facial recognition capability from SnapPay, consumers may pay with their qualified digital snapshot during the checkout process. As such, it eliminates the need for wallets or smartphones on the part of consumers, theoretically.
"Facial recognition technology is an increasingly popular method of payment among global consumers," observed Spencer Xu, CEO and Founder of SnapPay. "By enabling consumers to pay with their 'face' for merchants in North America, particularly those with self-service kiosks, we are providing an unprecedented level of convenience and speed in the checkout process. A lucrative customer segment increasingly demands it." This technology was demonstrated at the recent Retail Council of Canada's Retail West Show held in Vancouver, BC.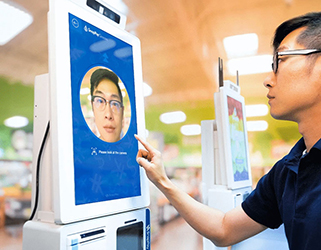 SnapPay Launches Facial Recognition Payment Technology in North America

PAR: Do You Believes in Magic?
Another move by PAR Technology (New Hartford, NY), with its interest purchase agreement for automation and back-office software developer, Restaurant Magic (f/k/a AccSys, Inc. in Tampa, FL). A platform of Microsoft .NET, so-called "Data Central" by Restaurant Magic integrates information from the point-of-sale, supply, inventory, payroll, and accounting to provide browser-level access to an overall overview of operations. A purchase price of $42 million will be financed primarily through cash and equity, according to the two parties.
"The goal of our company has always been to maintain continual growth for our company to better meet the needs of our customers, while fiercely protecting the investment our end-users have made in deploying our back-office software applications," expounded Drew Peloubet, CEO of Restaurant Magic. "Restaurant Magic's suite of enterprise applications and services are an excellent fit with PAR Technology's popular restaurant technology offerings, and together will provide customers throughout the restaurant industry with the most robust set of solutions in the marketplace. A combination of PAR and Restaurant Magic will immediately create an industry-leading front-to-back-end cloud technology solution for restaurants."
"[It] marks another significant milestone in the rapid evolution of PAR Technology," proclaimed Savneet Singh, PAR's CEO and President. "Our company continues to transform itself as we build out our restaurant technology solutions, led by our Brink Software, to be the leading cloud technology provider for enterprise restaurants." As highlights of its Q3 2019, he cited new billings of 961 sites for Brink Software, an increase of 41% from Q2 2019. Average selling price of Software-as-a-Service (SaaS) for Brink Software: over $200 per month. As readers will recall, PAR bought Brink Software in 2014, kick-starting its move to SaaS.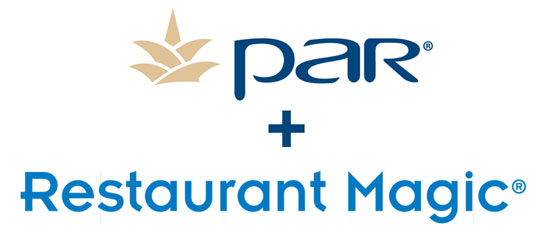 PAR Technology Snaps Up Restaurant Magic
Key Advertiser Links
Be sure to visit these vendors for the latest in channel products and offers for resellers.

POS & Peripherals
Aures
Bematech
CRS, Inc.
Electronic Payments
Equinox
Harbortouch
HP
Ingenico
Pioneer Solution
POSBANK USA
Posiflex
Protech Technologies
Toshiba
WooPOS
Barcode & Transaction Printers
Bixolon America
Brother Mobile
CognitiveTPG
Godex Americas
Cash Drawers
APG Cash Drawer
MMF POS
Data Collection
CipherLab
Code Corporation
Janam Technologies
Integrated Payment Solutions
Datacap Systems
Electronic Payments
Equinox
EVO Payments/Sterling
Ingenico
North American Bancard
Receipt Printers
Bixolon America
CognitiveTPG
Epson America
Seiko Instruments
Star Micronics
Video Surveillance
Envysion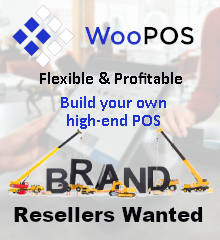 INSTALLATIONS
A Stampede of Zebras
Zebra Technologies Corporation (Lincolnshire, IL) will supply its TC77 mobile touch computer as the next-generation delivery device for the U.S. Postal Service. Under terms of an Indefinite Delivery/Indefinite Quantity (IDIQ) contract, for scan, track, and trace of packages across its carrier network, the U.S. Postal Service will deploy 300,000 TC77's. "We are honored to work with the world's largest postal service and are eager to provide our innovative mobile technology, services, and support to the USPS," celebrated Anders Gustafsson, Zebra's CEO.
Unwrapped in 2018, Zebra's TC77 features Android 8 (Oreo), ungradable to Android R, and Qualcomm Octa-Core Snapdragon 660 CPU, 4-GB RAM, and 32-GB Flash. A smartphone format measures 6.3 in. (L) x 3.3 in. (W) x 1.1 in. (D) and weighs 13.3 oz., with 4.7" high-definition (1280x720) capacitive touchscreen, 1D/2D scanner (Zebra SE4750), 5-MP front-facing and 13-MP rear-facing cameras, NFC, and 4620-mAh Lithium-Ion battery. As communications, there's Bluetooth 5/BLE, full 802.11 WLAN, 4G LTE, and GPS. It has ratings of IP-65/IP-68 for water and dust and 6-ft./1.8-m drops to concrete.
Also, Zebra has received certification for the TC77 for the First Responder Network Authority (FirstNet) Platform by AT&T. Also approved, its TC57 mobile touch computer and L10, ET56, and XSlate R12 tablets. "Zebra Technologies enhances the safety of first responders--as they protect the public--with solutions that maximize situational visibility, optimize communication and collaboration, and improve response efficiency," projected Joe White, SVP and GM, Enterprise Mobile Computing, at Zebra Technologies Corporation.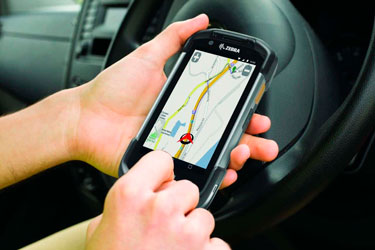 U.S. Postal Service Taps Zebra's TC77

A Teklynx in Food Chain
One of the largest food industry master distributors, Dot Foods (Mount Sterling, IL), has deployed the combined Codesoft/Sentinel labeling solution by Teklynx (Milwaukee, WI). It operates 14 distribution centers across the U.S., Canada, and Mexico, with more than 300 label printers in play. As its solution, it required support for its fail-over "high availability" (HA) computing environment as well as the warehouse management system (WMS) by JDA Software (Scottsdale, AZ).
"We were using a different platform from a different vendor and we were outgrowing them as well as having trouble with support," recounted Troy Schenk, Warehouse Systems Manager with Dot Foods. "We looked at about a dozen different software vendors and then chose Teklynx to be our label platform moving forward. We chose Teklynx because of the support and ease of use." It also seamlessly integrated with internal applications based on Android O/S, according to Dot Foods.
"One of our greatest assets is our ability to work in close partnership with our customers," contributed Doug Niemeyer, GM at Teklynx. "We take great pride in knowing that our enterprise-level automated label printing solution improves accuracy and increases efficiency, positioning Dot Foods to keep driving growth within the food industry supply chain." An benefits, Dot Foods cited increased print speed and an overall accuracy of 99% from installation of Codesoft/Sentinel.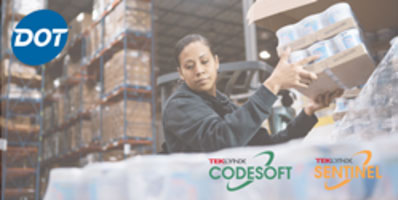 Distributor Dot Foods Installs Teklynx Labeling
Channel Factoid
NRF: "Ho, Ho, Ho!"
-Consumers say they will spend an average of $1,048 this holiday season, up 4% from last year's $1,007. Shoppers between the ages of 35 and 44 plan to spend the most at $1,159.
-Consumers will spend in three main categories: gifts for family, friends, and co-workers, at an average of $659; non-gift holiday items such as candy and food, decorations, greeting cards, and flowers at $227; and other non-gift purchases that take advantage of the deals and promotions throughout the season at $162
-More than half of consumers, 56%, say they will shop online, with 92% planning to take advantage of free shipping; 48% of buy online, pickup-in-store or ship-to-store services; and 16% of same-day delivery.
-A majority of consumers, 53%, will also shop in department stores and 51% will also shop in discount stores, while 44% will shop in grocery stores, 34% in clothing and accessory stores, and 23% each in electronics stores and local small businesses.
-Similar to previous years, 39% of holiday shoppers planned to start buying holiday items before November, while 43% would wait until at least November, and 18% planned to wait until December.
-Sales and discounts remain the largest factor in choosing retailers during the holidays (cited by 70%). Quality of merchandise was the next-largest factor (59%), followed by selection of merchandise (57%), free shipping and shipping promotions (46%), and convenient store locations (44%).
-For the 13th year in a row, gift cards remain the most popular items on wish lists (cited by 59%), followed by clothing and accessories (52%), books/music/video games (35%), electronics (29%), home decor (24%), jewelry (23%), personal care or beauty items (21%), sporting goods (18%), and home improvement items (17%).
-More than half of shoppers between the ages of 25 and 34 (52%) plan to purchase gifts for co-workers, and more than four-fifths of shoppers between the ages of 18 and 24 (82%) plan to purchase gifts for friends.
"Younger consumers are helping drive the spending increase this year," concluded Phil Rist, EVP of Strategy at Prosper Insights & Analytics. "They're not just spending on their immediate family, they're also treating their larger circle of co-workers and friends."
Source: "Annual Holiday Shopper Survey" by Prosper Insights & Analytics and the National Retail Federation (Washington, DC)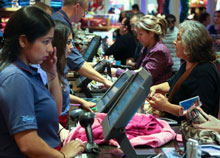 Holiday Shopping Looks Bully
Big Five in Hospitality
#1 - Oracle 20.3%
#2 - Agilysys 14.3%
#3 - NCR 13.3%
#4 - Spring-Miller Systems 8.9%
#5 - Square 6.7%
Source: As Shown by Gross Payment Volume in "2019 Merchant POS ISV Market Share," by IHL Group (Franklin, TN)
HELLO GOODBYE
Writing the Code
Code Corporation (Salt Lake City, UT), and its software subsidiary, TachyonIQ, has named Kent Hansen as CEO. Previously he was President at CA Engineering (2000 to 2019). Other roles have included VP of Business Development and Sales for BitRange Technologies (2018 to 2019) and Senior Director, OEM Marketing and Product Management, for 3Com (1994 to 2000).
"Our key criteria was to find an individual who will provide the leadership to build Code into a world-class organization. Kent has demonstrated the ability to do just that throughout his career," commented Barclay McFadden III, Chairman of Code's Board of Directors. "We also sought an individual whose management style encourages a collaborative working environment. Kent brings strong product management, sales, OEM, contract manufacturing, and financial expertise to Code."
"Code has become a leading provider of barcode scanning solutions during the last two decades," flourished Garrett Russell, Code's VP of Sales, North America, and Global Marketing. "I look forward to the changes and growth that Kent will help us achieve and the innovations that will be inspired by his leadership." After many years at Metrologic Instruments (acquired by Honeywell), Russell joined Code in 2008.
"I couldn't be more excited to join this amazing team of incredibly talented and smart individuals who make up the Code family--including our extended family of distributors and resellers," shared Hansen. "Together, we will continue to offer customers not only the most innovative data capture technology available, but also the most creative product solutions the industry has ever seen. I am happy to champion the Code brands in this new chapter and look forward to many more years of not only business success, but exceeding our customers' expectations."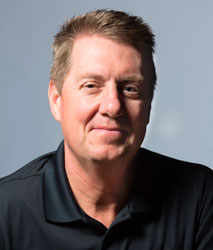 Kent Hansen, CEO, Code Corporation

Clearing the Deck at Clearent
Integrated payments provider Clearent (St. Louis, MO) has chosen Pamela Joseph, Chair of its Board of Directors, as its new CEO. In turn, Dan Geraty, who founded the company in 2005, will step down as CEO and serve as its Chair of the Board of Directors. A resume for Joseph includes COO at TSYS (2015 to 2017), Vice Chair of Payment Services at U.S. Bank (2001 to 2015), President and COO at Elavon (1994 to 2001), and Director of New Market Development at Visa (1991 to 1994). She serves on the Board of Directors at Paychex, TransUnion, and Adyen.
"I am pleased to help guide Clearent into the next phase of its development and build on its scale, performance, and long-term growth," stated Joseph. "[By] taking a user-centric approach, Dan and the team have pioneered something special at Clearent. We will continue to be focused on delivering the very best technologies for our partners and clients while consistently challenging ourselves to execute at the highest level."
"Clearent has disrupted the payments space because of our innovation and commitment to quality, transparency, and customer service," reflected Geraty. "I am tremendously proud of the business we have built and am forever grateful to my talented colleagues that helped shape our vision for Clearent. Going forward, Pam's leadership will be invaluable as the business scales and solidifies its leadership position in the industry."
Over the past two years, Clearent has partnered with private-equity firm Advent International (Boston, MA) to acquire SPOT Business Systems, serving customers in the dry cleaning industry; FieldEdge, field-service management software provider; Service Autopilot, payment software solutions provider to the service industry; Coolfront, which supplies maintenance agreement management systems in plumbing, electrical, and HVAC; and Compassmax, another player in dry cleaning POS. It currently processes over $20 billion in annual transaction volume. It recently added Matthew Morrow as CRO, Brent Coles as CFO, and Justin Rohde as Chief Transformation Officer.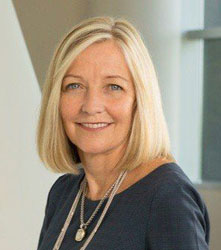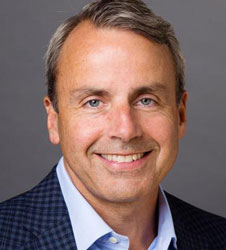 At Clearent: Pamela Joseph to CEO and Dan Geraty to Chairman of the Board of Directors

Old Friends at NewStore
A purveyor of "Omnichannel-as-a-Service," entitled NewStore (Boston, MA), has added Jeff Barnett to its Board of Directors. Established in 2015 by Stephan Schambach, former Founder and CEO of Demandware (which was purchased by Salesforce in 2016), NewStore offers its combined cloud-based order management system (OMS) and mobile POS (mPOS). A decade at Demandware for Barnett included roles as EVP of Field Operations (2005 to 2013), COO (2013 to 2016), and, after acquisition, CEO of Salesforce Commerce Cloud (2016 to 2018).
"Retailers worldwide value the benefits of omnichannel. Even so, there are still financial, organizational, and technological challenges that stand in the way of getting it right," asserted Schambach, who serves as CEO of NewStore. "We're in the business of making omnichannel a joy--to execute by brands, and to experience by shoppers. We're glad to welcome Jeff to the team as he shares our vision for retail, but more importantly, he has an immense track record in transformative retail technology. We're already leveraging his unique knowledge of the market to better serve the brands we work with, and to sign new ones." As integration layer, NewStore has its REST API.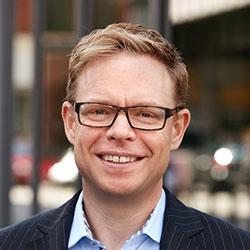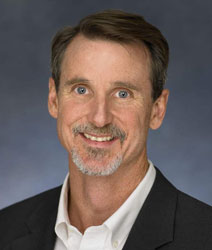 A Reunion at NewStore: Stephan Schambach, CEO, and Jeff Barnett, Board of Directors

He's the G-Man
Certified Payments (Fort Worth, TX) has engaged Jaime De La Vega as its VP of Sales. He joins the government-focused processor, part of First American Payment Systems, from JP Morgan Chase, where he served as VP of Sales (2013 to 2019). Earlier, he served as Regional Sales Manager for Bank of America Merchant Services (2009 to 2013).
"Jaime is a high-energy leader with a proven track record of attracting and managing top-flight sales teams, while successfully achieving company objectives," expressed Mike LoMurro, President of Certified Payments. "I am confident his background and experience will further enhance our culture of success and drive our sales efforts to new heights." He will be based in Pompano Beach, FL. At First American Payment Systems, John Newton serves as VP of Strategic Partnerships.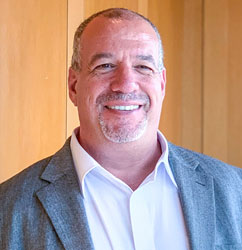 Jaime De La Vega, VP of Sales, Certified Payments